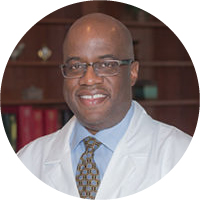 Ohio University
Residency: Christiana Care Hospital
Fellowship: Emory University
Subspecialty: Interventional Radiology
Dr. Roger Williams is an ABR board-certified diagnostic and interventional radiologist with an ABR Certificate of Added Qualification (CAQ) in Vascular and Interventional Radiology. He received his DO degree and completed an internship in Medicine at Frankford Hospital in Philadelphia. He then completed his Diagnostic Radiology residency at the Christiana Care Hospital System in Newark, Delaware and a Vascular and Interventional Radiology fellowship at Emory University in Atlanta, Georgia.
He has published numerous journal articles in vascular and interventional radiology with special emphasis in interventional oncology, tumor ablations, primary and secondary liver tumors (hepatocellular carcinoma, metastatic colorectal cancer, and other liver tumors), and renal cell carcinoma.
His areas of interest include interventional oncology, such as chemoembolization, radioembolization, microwave and cryoablation. Dr. Williams performs spine interventions for pain control, including painful metastatic spine lesions, and palliative interventions, such as desmoid tumors, therapeutics, pain palliation (pudendal nerve and osteiod osteoma). He is a member of the American College of Radiology, the Society for Interventional Radiology, American Roentgen Ray Society, and the Radiological Society of North America. His personal interests are tennis and history.